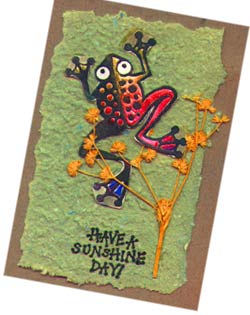 Coke Can Frog
Freezer Film
Freezer film (such as Glad Go-Between) is a high-density film that's used to prevent food items from sticking together in the freezer. This non-stick characteristic means it can be used in an unusual way when preparing to apply foil. The usual practice, when foiling; is to stamp and emboss an image on cardstock, cover the open areas with glue (I use a Sailor Rolling Ball pen), and, once dry (allow at least an hour), to rub the foil, dull side down, onto the now-tacky glued areas.
However, what can you do when there's no time to foil immediately? Freezer film comes to the rescue! The freezer film will stick to the glue, keeping it dust free, but it will lift off easi1y when you have time to do the foiling at a later stage -even 6 months to a year later!
Cling Wrap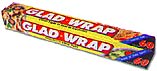 Plastic cling wrap is fantastic for creating interesting surface designs. To make marble backgrounds, first drop a couple of blobs of Marvy Metallic Marker or Pentel Metallic Paint Marker onto black, gloss card and lighdy spray with water. Cover these blobs with cling wrap, and then crinkle and squish the clingwrap and set aside to dry. Remove the cling wrap to reveal a gorgeous marble effect. The same technique can also be used with watercolours on saturated watercolour paper.
Metal Spoons

Stamp shrink plastic with permanent ink, and heat and shrink in the usual way. Place the shrunk piece over the back of a metal spoon and heat again. The shrink plastic will soften and take the shape of the spoon to form an interesting embellishment. Similarly, drape still-warm-and-pliable polymer clay creations over the spoon.

2 Litre Plastic Drink Bottles
The plastic from drink bottles can be stamped on with a fast drying ink and painted with stained glass paints to create fabulous mobile sun catchers. To start, cut the smooth mid-section from a plastic drink bottle. To flatten, roll it up against its natural roll (that is anti-roll) and secure with a rubber band. Place the roll into a cup of warm water (half a cup of boiling water and half a cup of cool water) for 10 minutes. The plastic, when unrolled should be flat enough to work with and stamp on.
Lemons


Have you ever impressed kids with secret writing? Using a brush or calligraphy nib, write with lemon juice on paper and allow to dry. When heated with a heat gun or iron, delightful antique looking writing appears. Try this with your stamps too.
Saturate a sponge with lemon juice and use this as your 'pad' to ink your stamp. Stamp onto paper or card and allow to dry. When heated, the stamped image will appear in a delightful brownish colour. Try cutting a lemon in half and stamping it directly onto paper. Then heat, as above.
This technique also works using grapefruit.

Page 2

Bet you didn't know that cling wrap can also be used as glue! Place a piece of cling wrap between tissue or thin Washi paper and a piece of card and press with a hot iron. The heat will melt the cling wrap, fusing the tissue to the card. This also works really well when bonding a paper serviette to card, or when bonding two different coloured tissue papers (or similar) to create a "duo-paper". And apparently, the cheaper the cling wrap, the better it works!
Wax Wrap
For an out-of-the-ordinary background, crumple wax wrap and place it on a piece of white gloss card. Place another piece of plain paper over and press with a hot iron. Remove the paper and lift off the wax wrap. You will notice that the gloss card now appears to be 'water-marked'. The heat has transferred the wax from the wax wrap to the card, forming an all-over pattern. This can now be used as is for the water-mark look. Or brayer with dye ink and the wax will resist the ink, creating an interesting background.

In the Cupboard

Candles
To create a personalised and decorated .gift candle, use a heat gun to gently heat the surface of a candle to soften, and then stamp into the softened wax with pigment ink. Allow to cool and remove stamp. Rub the stamped area with Luriliere acrylic paint, Pearl Ex or rub ons. You can also paint the candle with Lumiere paint before stamping.

Aluminium Soda Cans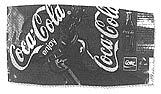 When cut, opened and flattened (ends removed), aluminium cans have a multitude of uses. One is to stamp an image on double-sided sticker paper, cut image area out roughly, remove the protective backing, and stick image onto an opened and flattened aluminium can. Now, cut the image out carefully - very carefully unless you want to add Band
Aids to the kitchen stamping section! Manipulate the cut out stamped image into a 3D shape. These make great fridge magnets (with a magnet adhered to the back, of course), and they look really effective with bug and lizard images. Because of the sharp edges, remember to keep the completed pieces away from inquisitive toddlers!

You can also use the flattened cans as picture frames. Cut to shape, dry emboss, punch with metal punches and paint with Lumiere paint. In fact, these cans can replace aluminium shim in most applications.
Christmas has gone, the school holidays are over, and the kids are back at school. At last we have time again to retreat to our special space for some serious stamping. But there's a slight problem. The holiday activities have severely depleted the finances and we're broke! Only one thing to do. Raid the house for stamping supplies! Over the next few issues of The Rubber Gazette, I'll provide ideas and tips on how to use common household products to enhance and extend your stamping supply kit. It's great fun, and the money saved cart be spent on those stamping goods we so desperately need, that we can't raid the house for.
In this first article, I'll ransack the kitchen for handy items, and share some of the wonderful things that can be created with them.
Rolls of Stuff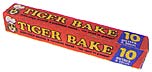 Baking Parchment
Baking parchment (such as Glad Bake or Multix Bake) is a poor stamper's Teflon sheet. I always use baking parchment as my paint palette when using Jacquard Lumiere acrylic paint and Jacquard Neopaque paints. I even save these coated pieces of baking parchment! When the 'palette' is used up and dry I heat it with a heat gun. The paint wrinkles and can be peeled off and used to enhance collage work. It also looks great attached to the back of permanently stamped clear laminate. Try making a thicker skin by painting the baking parchment with many layers of Lumiere. Heat the same way and stitch this flexible skin to stamped fabric.

This product is also useful with Opals embossing enamel or UTEE (Ultra Thick Embossing Enamel). Smear your baking parchment with pigment ink. Sprinkle with Opals or UTEE and heat to melt the powder. Sprinkle and heat twice more. After heating the third layer, fold the Opals or UTEE and the baking
parchment back over itself, giving twice the depth and half the area.. Open up, heat again, and quickly stamp into this melted Opals or UTEE with an inked
stamp. Allow to cool and remove the stamp. Peel baking parchment off the back of the stamped piece and place the Opals or UTEE onto double-sided sticker paper (such as JAC) to protect the fragile piece from breaking. When you want to use it, simply remove the backing sheet and attach to your artwork.