Clearly Better Polymer stamps from My Stamps
Copyright Information
Yes, you MAY sell cards which you have hand stamped using My Stamps
My Stamps is an 'Angel Company'. We recognize and appreciate the part artists and crafters play in the evolution of stamping as an art craft. We appreciate that their work gives our stamps life. We consider work created and sold using Cathy's designs not to be an infringement of copyright providing the images used were each individually hand stamped by the selling artist. Any reproduction or copy of Cathy's designs by any other means, eg graphic, photographic including photocopying, electronic, mechanical or otherwise without the express written permission of the Author remains in conflict with the law.
Copyright 1992 - 2005 Cathy Daulman applies to all graphic and written material herein unless credited otherwise
These pages have been optimised for Itnernet Explorer v6+. Most effects etc will operate under IE5 + but we do suggest that you upgrade to the latest version.
Internet Explorer
NOTE: Pleaase ensure that your type size is set on medium or smaller (click <VIEW> <TEXT SIZE> <MEDIUM> or <SMALLER>)
Please use these menus to navigate

The bend it... cut it... heat it... you can even stamp in it... plastic
from Cathy Daulman
>Cut 'funtustic' with sharp scissors or score the surface with a craft knife and break off along the cut line.
>Remember that different sizes of 'funtustic' need different heating times - the bigger the piece, the longer the heating time needs to be.

Place a piece of 'funtustic', about 50 x 60mm (2" x 2.5"), on a piece of aluminium foil.

Use only in a well ventilated area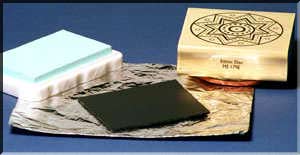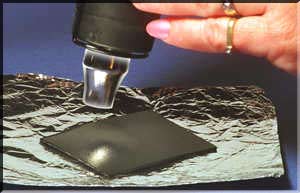 Heat one side of the 'funtustic' piece for about 10 seconds using a good heat tool.
Flip it over and heat it again for about 2 minutes, holding the heat tool close to the piece.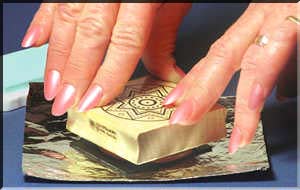 The edges of the 'funtustic' will start to distort as it gets hot. Some heat tools are stronger than others, so you may have to adjust your heating times accordingly. Times illustrated are based on a heat tool with a temperature of 650 degrees F (eg. Milwaukee, Marvy or a domestic paint stripper heat gun). Test on a small piece first. The larger the piece to be stamped into, the more heating it will require.

Firmly push a well inked stamp into the hot 'funtustic'.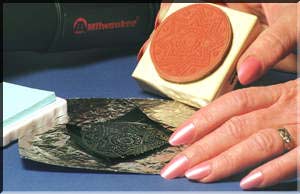 Allow the 'funtustic' to cool before you remove your stamp.
Decorate, cut, punch and colour your 'funtustic' image to your satisfaction
One pack contains 2 sheets of 'funtustic', each approximately 125 x 270mm (about 5 x 11 inches) and 1.4mm thick.